Replaced the frames equipped with the Apollo boots from K2 to Arco.
It totally changed the skating experience with these boots. K2 3100 is known for reasonably good frames with budget. It was OK with me but they were not my favorite at all as the maneuverability was not great to me.
Since Apollo boots are 165 mount, I chose Arco 1084 (100x3 + 84x1) frames. I knew I was going to love them. I used to have Arco 5x84 straight frames and fell in love with them (the length was too long so I decided to let them go).
My second Arco frames did not turn me down at all. They are just great. Glide is easy, small turns are easy to manipulate and the ride is so smooth. I love Arco frames. I think they went out of business, too bad.
:: DATA ::
Skates:
Canariam Apollo + Arco 1084 + Hyper Stripe
Route:
Central Park
Mileage:
14km (9 miles)
Weather:
Temp. 70F (+21 C). Winds 5.8 mph / 9.3 km/h, Event Clear, Humidity 48%, (reading at 2PM)
Saturday, February 7, 2009
Naomi Grigg at GES 2009


Naomi Grigg, the world free style skate champion joined us for the Great EsSkate 2009 and demonstrated her rubber legs.





---
Sunday, December 14, 2008

Skated with socks on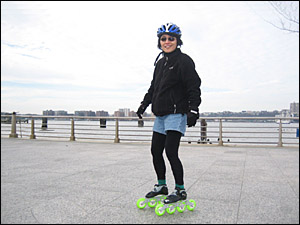 First day with socks on!
The custom boots fitting is getting better and better. It was so difficult to put in my feet in the boots on the day one. Skated with no shoe lace and no socks for twice or three times - both for a short distance. The boots sometimes take a few skates to get loosened up and get the foot to sit all the way back.
They are getting better so I added shoe lace yesterday. Still no socks.
Today is the first day usign socks. I chose the thinest socks I have and they worked fine. These boots are really great. I think I will love them a lot once they are fully customized (loosened). Frames are great, too. Actually I was going to mount carbon frames but they were not available so I chose Pilot frames as for an alternative (and temporary) solution. It turned out to be great frames that I will probably use for long.

:: DATA ::
Skates: Pinnacle Tsunami + Lugino Pilot + Juice F3100
Route: West Side Path, Central Park
Mileage: 13km (8.25 miles)
Weather: Temp. 43F (+6 C). Winds 5 mph / 7 km/h, Event Clear, Humidity 51%, (reading at 1PM)


¶ 18:17 12/14/2008
---
Saturday, December 13, 2008

Where is everybody?


Skated in Central Park and found no other skaters at all.
It was very windy this morning but wind died down by noon time.
It was not too cold and enjoyed skating with my Pinnacle boots. Skaters typically sleep late so probably they come out later in the afternoon.

:: DATA ::
Skates: Pinnacle Tsunami + Lugino Pilot + Juice F3100
Route: Central Park cutoff loop
Mileage: 8km (5 miles)
Weather: Temp. 30F (-1 C). Winds 10 miles/ 16 km, Event Clear, Humidity 40%, (reading at 2PM)


¶ 10:28 12/14/2008
---
---
© 2008 sk8ny.net All Rights Reserved.